Free Reproducibles
Bolstering Student Resilience
Creating a Classroom with Consistency, Connection, and Compassion
Move beyond the buzzwords surrounding social-emotional learning and focus on three fundamentals for successfully supporting your students. This book illuminates the why behind the work and offers proven strategies for building positive, supportive classrooms.
Benefits
Create predictable, safe classrooms by establishing clear structures for routines, acknowledgment, and discipline.
Set limits and boundaries in the classroom while building skills through relationships.
Allow flexibility and emotional space for students—particularly those with pronounced social, emotional, or behavioral needs.
Discover an approach to SEL that works across all frameworks and initiatives.
Study the supportive discipline framework to replace detrimental behaviors with prosocial skills.
Give feedback that supports consistency and builds connections.
Get your copy today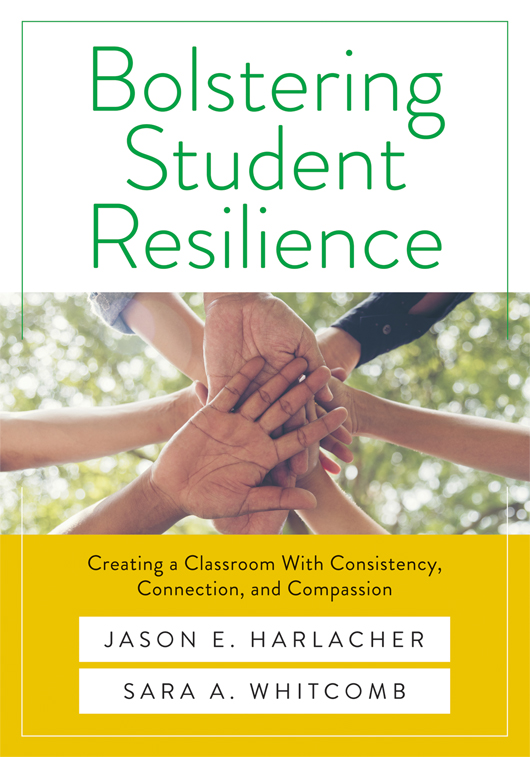 ---
TABLE OF CONTENTS
Chapter 1: Understanding Student Risk Factors
Chapter 2: Using Universal Practices to Promote Consistency
Chapter 3: Giving Feedback to Support Consistency and Build Connection
Chapter 4: Creating Classrooms That Support Connection
Chapter 5: Employing Discipline That Ensures Consistency
Chapter 6: Adjusting Discipline for Compassion
Chapter 7: Using Data Effectively to Tie It All Together
Chapter 8: Helping Students With Ongoing Needs
Epilogue
PRINTABLE REPRODUCIBLES
SUGGESTED RESOURCES
Books
Harlacher, J. E. (2015). Designing effective classroom management. Bloomington, IN: Marzano Resources.
Harlacher, J. E., & Rodriguez, B. J. (2018). An educator's guide to schoolwide positive behavioral interventions and supports: Integrating all three. Bloomington, IN: Marzano Resources.
Websites
Introduction
Chapter 2
Chapter 3
Chapter 4
Chapter 5
Chapter 6
Chapter 7
Chapter 8